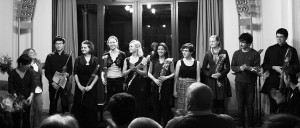 We invite you warmly to the 13th International Masterclass with Prof. Tatjana Masurenko and her assistant Ronen Shifron.
Piano accompaniment: Gilad Katznelson
Date: 23 to 27 February 2021 > the class is postponed, info soon here

Place: Hochschule für Musik und Theater Leipzig / University of Music and Theatre Leipzig
Fee: 340.00 EUR (active) / 100.00 EUR (passive/listener)
Final concert: Sat, 27 February 2021, 11:00am, Musiksalon, Dittrichring 21, 04109 Leipzig
To apply for the class, please send your name, address, e-mail-address, telephone number to the organiser. If I do not know you yet, please attach/send a link to an artistic C.V. and a simple recording (c. 15 mins, free choice of works).
Maximum 12 participants are accepted.
Piano accompaniment will be provided (accompanist: Gilad Katznelson)
Lessons: 3 hours (2 lessons with Prof. Masurenko, 1 lesson with Ronen Shifron)
Application deadline: 10 February 2021
Application/Organisation: Dreh- und Angelpunkt – Kulturprojekte, Heike Bronn
Masterclass Viola LEIPZIG 2021
See you in Leipzig!