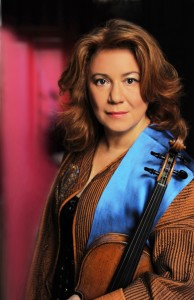 "Most colourful and convincing viola playing" (Herbert Blomstedt)
Tatjana Masurenko is one of the leading viola players of our time. Her distinctive style is shaped by her expressive playing and her thorough and intensive musical studies. Her charisma and natural stage presence are captivating. Alongside the great viola concertos by Walton, Bartók and Hindemith, Tatjana's wide-ranging concert repertoire also includes modern classical works such as Schnittke, Gubaidulina and Kancheli and the rarely performed viola concertos by Hartmann and Bartel.
Tatjana Masurenko has made solo appearances with orchestras including the Gewandhausorchester Leipzig, the Radio Symphonie Orchester Berlin, the NDR Radiophilharmonie and other leading orchestras in Europe and Asia. She has been a welcome guest at major international festivals as both soloist and chamber musician for many years.
She grew up in a family of Russian academics and jazz musicians. Her musical path began in St Petersburg where she was able to benefit from the traditional St Petersburg school with the best teachers of her time. She continued her musical studies in Germany with Kim Kashkashian and Nobuko Imai. Her search for new forms of expression on the viola and new techniques and tonal concepts were encouraged and influenced by encounters with figures including Boris Pergamenschikow, György Kurtág, Brigitte Fassbaender and Herbert Blomstedt.
For some years now, Tatjana Masurenko's major objective in her musical career has been the further development of the viola as a solo instrument which also explains her commitment to contemporary music. She has given numerous first performances of new compositions, many of which are dedicated to her and originated on her initiative. She has worked with composers such as the recently deceased Gladys Krenek, Moritz von Gagern, Dimitri Terzakis, Wolfgang Rihm, Hans-Christian Bartel, Luca Lombardi and Nejat Başeğmezler. Tatjana Masurenko's discography reflects the musician's high artistic standards. Right from the start, she compiles the programmes of her CDs meticulously and with great deliberation.
Tatjana Masurenko plays the music of Ernst Krenek with enthusiasm, supports the Ernst Krenek Institute in Krems, Austria, and has recorded all his works for solo viola. Several of her CD recordings (for example the concerto by K. A. Hartmann and British Viola Concertos featuring concertos by Walton, Beamish und Britten) received awards including the Preis der deutschen Schallplattenkritik and international accolades such as the Supersonic Award (Luxemburg) and the Diapason découverte (France). Her 3-CD box set "White Nights – Music from St. Petersburg", which she recorded with pianist Roglit Ishay, is one of the most important recordings of this repertoire.
At present, Tatjana Masurenko is intensively dedicated to historical performance practice and especially to 19th century playing and the romantic repertoire. For several years she has been engaged in playing the viola d'amore: thus, she interprets baroque and classical repertoire with passion, but at the same time she develops modern music on this baroque instrument with much interest in an experimental and innovative way with new sound ideas. She plays a viola d'amore by Charles Jacquot, Paris 1849.
Tatjana Masurenko is dedicated to promoting young musicians. From 2002 to 2022 she was professor of viola at the Hochschule für Musik und Theater "Felix Mendelssohn Bartholdy" Leipzig with an international reputation and she teaches since 2019 in the same position at the Haute Ecole de Musique de Lausanne in Sion, Switzerland. In June 2022 she was appointed by the famous Colburn Conservatory of Music in Los Angeles, USA, as Professor of Viola and Chamber Music (Richard Colburn Chair for Viola and Chamber Music) and now teaches there as well. She gives master classes in Europe and America and is artistic director of the International Viola Camp in Iznik (Turkey) as well as of a master class in Leipzig.
Many of her students have built successful careers and travel the world as soloists, professors, principal violists in major orchestras and as chamber musicians.
Her teaching style is built on the St. Petersburg tradition of the 19th/early 20th century and merges with the new ideas and sensibilities of the 20th/21st century, especially in the interpretation of Baroque and Classical music.
Tatjana Masurenko plays a viola by P. Testore, Milan 1756 and a specially built instrument by Jürgen Manthey, Leipzig 2017, who has developed new acoustic and tonal construction methods that clearly distinguish his instruments from others. She changes the bows to match the style.